Description
Technical Parameter
Other Instructions
Ordering
Name specification
Performance and characteristics:
1. won the EU CE certification.
2. the three mode of open machine can be set:
(a) lubrication: the timing of the lubrication time is first performed when the machine is opened.
(b) intermittence: the interval time is executed first.
(c) memory: the time before the start of the machine.
3. lubrication and interval time can be adjusted.
4. is equipped with a liquid level switch. When the oil is insufficient, the wasp will send out an alarm to output the abnormal signal of the liquid level.
5. a motor self protection device is provided to prevent overheating and overloading.
6.The constant pressure function of the 6. pressure relief valve can protect the pump and pipeline to reduce damage.
7. lubrication time (second / minute) and interval time (second / minute / time) unit can be selected.
8. panel indicator can show the actuating state of the oil injector.
9. according to the mechanical actuating frequency is set according to the intermittent period, counting.
10. the pressure switch can be selected freely according to the requirements of the customer (YET-A1P1).
11. has a "RES" key, which can be forced to lubricate.
12. it is necessary to match the resistance type oil dispenser.
13. longest lubrication time less than 2min, the shortest interval is greater than or equal to 3min.
Scope of application
The YET type machine is suitable for the centralized lubrication system of machine tools, plastics, textile, light industry, printing and conveyor.
Appearance size diagram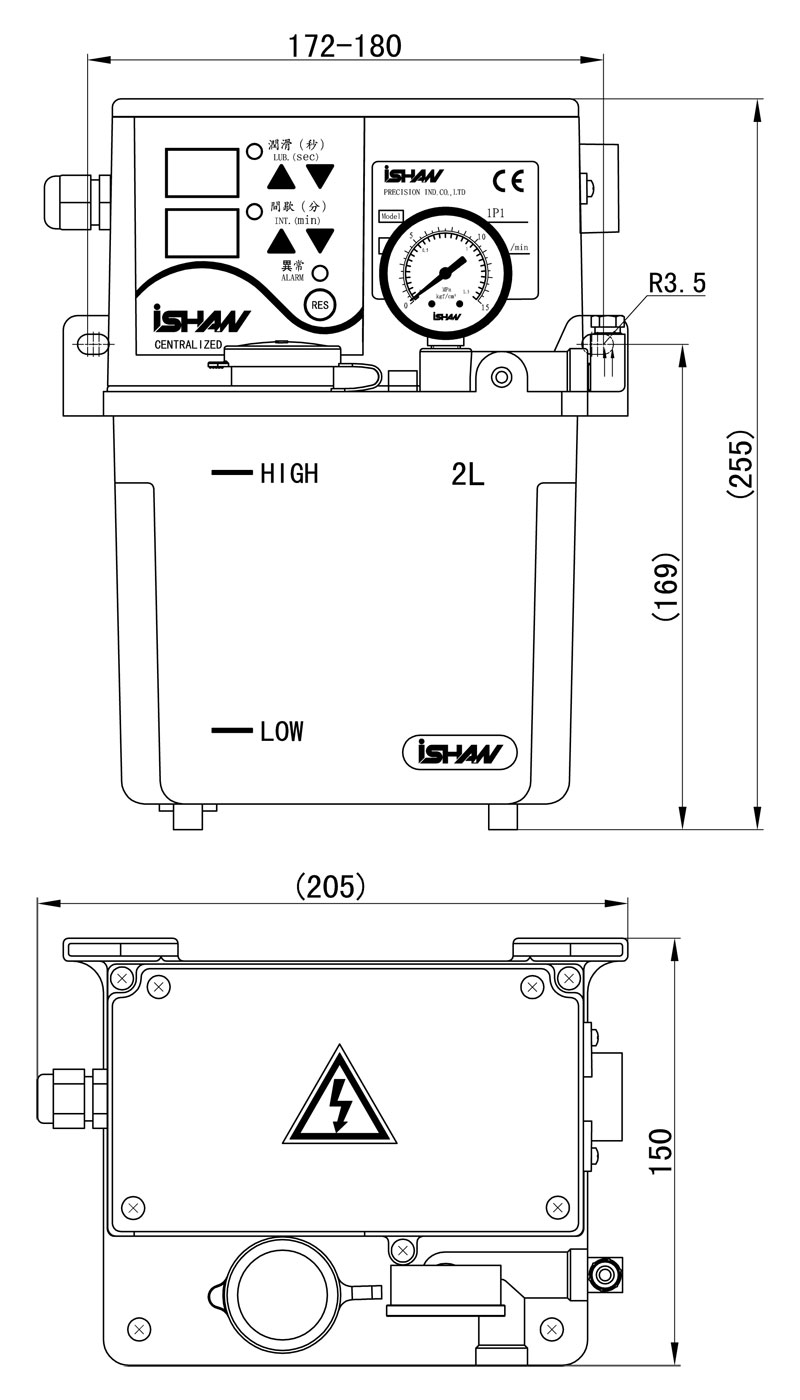 Type and technical parameters:
Product No.
Single phase voltage (VAC)
Power (W)
Abnormal output connection capacity (A)
Lubrication time (second / minute)
Interval time(second / minute / time )
Spit out the caliber
Maximum spitting pressure (kgf/cm²)
The amount of spitting (cc/min)
Pressure switch (kgf/cm²)
Oil tank capacity (L)
Weight (kg)
YET-A1
111101
110
or
220
100
3
1 ~ 999
1 ~ 999
4
7
200
No
2L (resin)
2.7
3L (resin)
3.0
YET-A1P1
2.1↑ off
4L (resin)
3.3
4L (alufer)
3.7
Wiring diagram
Hydraulic schematic diagram